Results from a new survey provide clear direction from district administrators.
With public education making the sudden shift to remote learning as a result of the COVID-19 virus, the inequities of our public education landscape are much more apparent. While there are districts that have made the shift quickly due to expansive, secure networks and well-trained teachers practiced in integrating technology into their teaching, many districts are struggling to support distance learning without sufficient bandwidth, network support, and devices.
The education industry has always had congenial relationships between districts and vendors. So, it is not surprising that companies want to reach out to help schools navigate this difficult time.
But there is a right way and a wrong way to do this.
Some companies have opened up the digital gates to allow district customers to use their products for all students without additional cost. Some are offering free professional development to help teachers make the shift to teaching remotely. Technology companies are donating devices and hotspots for students who don't have them. There are many notable efforts to help districts solve technology and instructional challenges to serve their students at home. But there are also companies trying to take advantage of the situation with inappropriate and misplaced sales offers.
How District Administrators Really Feel
We* sent out a short survey last week to see how administrators are managing this new reality of remote learning. When asked what STEM companies could do to help district leaders, a significant number of administrators responded with clear direction. More than two-thirds (68.9%) of respondents said that vendors should put all new sales pitches on hold. Leaders were clear: "If we are not already doing business with you, we don't want to talk to you." It was reported last week that one administrator said, "You're either a partner or a vulture, and we will remember who you are."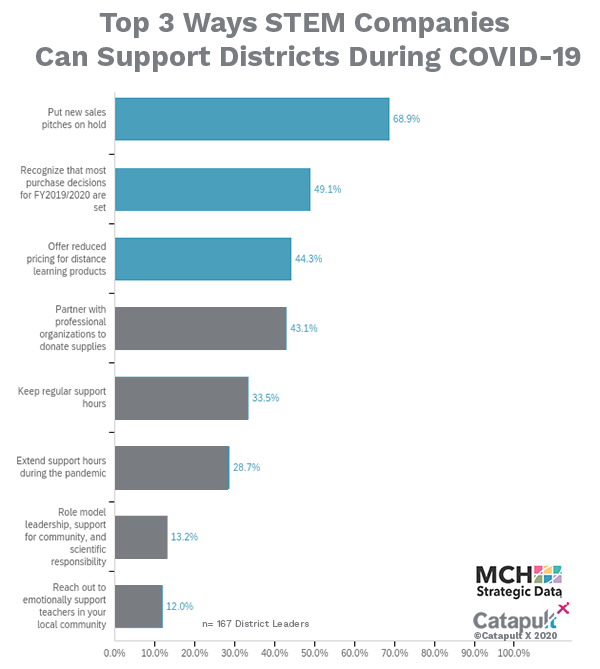 Just under 50% (49.1%) of respondents urged edtech vendors to understand that purchase decisions for 2019-2020  are set. It is likely that schools will not open again for the remainder of this school year, and the future is difficult to see right now, so no new purchase decisions are being made at this time. The funding impact from this tsunami of change could be similar to the impact from the 2008 economic recession. No one knows yet.
44.3% of responding district leaders said that it would be helpful if vendors offered reduced pricing for distance learning products. District administrators are focused on helping their teachers and students get the support they need to finish out the school year. They don't have time to talk to vendors. The best way to help is to share additional access to your products, if you are already in a business relationship with a district. If not, you should stay out of the way and refrain from contacting districts. They are deleting your unread emails.
Feedback from district administrators is clear and direct. This is not the time to offer new products for sale—no matter how much you think they can help.
*Catapult X and The Teich Group have partnered to take the pulse of the market on a weekly basis during this unprecedented time to provide education vendors with real-time data to inform their decision-making.